The Pros and Cons of Offset Printing
By Mike Votava |
AlphaGraphics Seattle is pleased to have a guest contribution to our blog from The Print Connection. Printing has changed over many years, growing from offset to digital and changing the way people print today. Each type of printing has its own strengths and weaknesses. Knowing what these strengths and weaknesses are in digital and offset printing can help determine which printing method is best for you.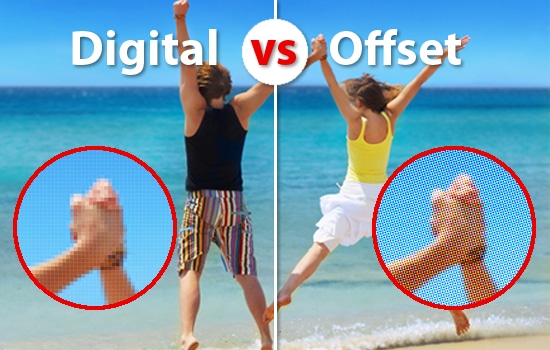 Advantages of Digital Printing
Digital printing is a new wave style of printing, eliminating much of the time and effort that goes into offset printing. Digital does provide a short turnaround time, providing that everything is correct and nothing goes wrong.
Another advantage is that every print will be exactly the same. You will receive more accurate counts, less waste with all similar prints because of everything staying the same during the duration of the printing process.
You can customize the digital printing process in a variety of ways. Text and graphics can be changed on each piece of print, without stopping or slowing down the press. This makes printing that involves personalized print to be a lot easier. You can also use a wide variety of colors, changing them whenever you feel necessary as well.
Advantages of Offset Printing
Offset printing has been around long before digital printing was ever considered. Offset produces a high image quality that can be produced on a wide range of printing surfaces including paper, wood, cloth, leather, texturized paper, and plastic.
Another advantage of offset printing is that the cost goes down as the quantity goes up. Offset printing is very effective in high volume projects, as long as there is a mass product that needs to be produced. Once an offset printing job is set up for production, it can continuously produce without any worry. You will get closer colors and better image quality with offset printing. Offset printing makes it easy to get the exact image and product you are seeking to get. It does not distort any part of the product, creating quality work every time.
Summary
When it comes down to it, there are some aspects that you need to consider to figure out what is the best to use. Quantity is the first thing that should be considered. Offset printing is better to use when you are seeking mass production, whereas short runs are going to cost more for offset printing. If you want to do shorter runs, digital printing is an easier choice when it comes to cost. The printing medium will also affect the type of printing you use. If you want to use a special paper or unusual printing surface or size, digital printing still lacks in the options to choose from, so offset is the better choice. If time is a concern, no matter how many or what type of product it is, digital will always offer the best turnaround time. Digital eliminates the need of many steps included in printing. You can also see a proof of your product before you print all of the copies with digital. Customizing is also the easiest with digital.
Consider all of these aspects when looking for a printing option to ensure you get the best deal possible while saving you time and effort.
Denver Printer, The Print Connection is pleased to bring you this article on the advantages and disadvantages of offset and digital printing. The Print Connection specializes in bookbinding, business cards, flyers, digital printing, and offset printing in Denver. If you are interested in learning more, check out their website today.